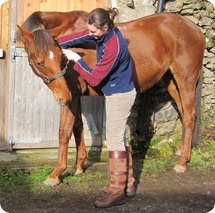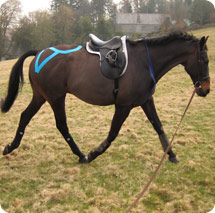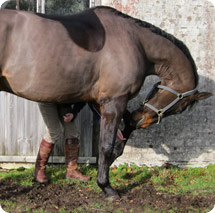 Charges
Initial Assessment £55
Follow up visits £45
Opening Hours
Mon to Fri 08:30 to 18:00

Horses
Horses can benefit from physiotherapy intervention for a vast range of conditions. Any horse can sustain musculo-skeletal injury, whether through competition or simply playing in the field.
Even if your horse is only used for hacking, physiotherapy can help improve quality of life through manual treatments and exercises. Some problems are caused by mistakes in training regimes, and this is an area which can benefit particularly well from physiotherapy. Competition horses and ponies benefit from physiotherapy just as any human athlete would.
Many people choose to have their horses checked at key points during their competitive season, to ensure any small problems are picked up and dealt with before they become more serious. With horses that are in hard work, more regular sessions can be beneficial to maintain optimum physical fitness for the job required. If more serious problems do develop the physiotherapy can be instrumental in achieving a full recovery.
It is always better to start physiotherapy intervention sooner rather than later, because chronic problems are much more difficult to resolve. The following are examples of conditions that can be treated with physiotherapy, but is far from exhaustive:
Back pain
Stiffness
Saddle fitting difficulties
Schooling/performance problems
Tendon injuries
Recovery from foot imbalance
Muscle injury
Muscle imbalance
Post-operative recovery
Horses receiving physiotherapy will undergo a thorough assessment, and manual/electrotherapy treatments appropriate to their condition. In most cases an exercise programme will be given to the owner/handler to reinforce the treatments given and to continue progress between sessions. This may include using equipment and schooling aids such as taping and theraband.
Veterinary permission is required before seeing any case, and close liaison with your vet is often essential throughout the treatment process. Discussions with your farrier, saddler and dentist may also be necessary to find out about your horse in more detail, or to plan long-term management.