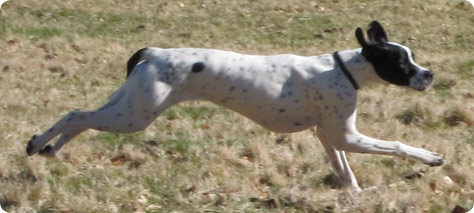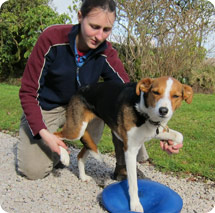 Charges
Initial Assessment £55
Follow up visits £45
Opening Hours
Mon to Fri 08:30 to 18:00

Dogs
Physiotherapy in dogs – and other small animals – is a growing area, particularly fuelled by the competitive world of agility, and the rapidly progressing field of orthopaedic surgery. Dogs can suffer with arthritis just like people, and rehabilitation from surgery is in increasing demand. Below are just a few examples of conditions which can benefit from physiotherapy:
Arthritis – spine and limb joints
Orthopaedic pre-op conditioning and post-operative rehabilitation
Hip replacement
Cruciate repair
Neurological conditions – such as disc disease and post-operative rehabilitation
Dogs receive a thorough assessment prior to any treatment, and this is usually carried out at the animal's own home to aid relaxation and compliance.
Manual therapy and electrotherapy treatments will be used if needed, and in most cases exercises will be given for the owner to continue with between sessions, in order to achieve maximal benefit from physiotherapy. For some conditions splints and other equipment may be necessary in the recovery process.
I have close links with a local rehabilitation centre with a hydrotherapy treadmill and if this is necessary for any patient's recovery, I can arrange this quickly.
Veterinary permission is required before commencing physiotherapy, and close liaison with your vet is essential for ensuring that everyone involved is working towards the same goal. Although dogs are the most likely small animals to require physiotherapy, cats and other pets may benefit too.